1 - Army Trousers/
calças militares
Looser than the cargo skinny of last seasons and non-denim materials/
Mais largas que as skinny cargo das estações passadas e feitas com diferentes materiais que não o denim.
2 - Boxy collared and oversized jackets/
Blusões oversized com gola abotoados ou com zip.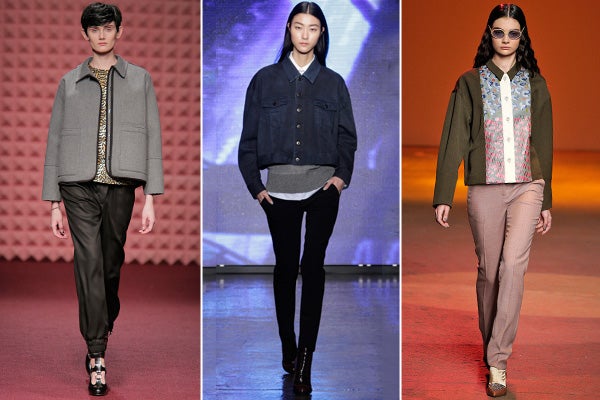 3 - Flannel Jumpsuits/
Jumpsuits de flanela para usar e abusar mesmo em eventos mais formais.
4 - Jeweled jackets from eveningwear to day light
/ casacos com brilhos e joias incorporadas no tecido transportados do eveningwear para o dia
5 - Folk Embroidery/
bordados inspirados no folclore de tradição popular
6 - Leather sweatpants after leather leggings here it comes the leather loosy pants with elastic waist
/ calças de pele largas com cintura de elástico para arrumar de vez as leggings em pele.
7 - Plaid pants instead floral prints of the last season included pajama-pant style
/ calças xadrez a substituir os motivos florais da´última estação com ar dandy estilo pijama.
8 - V-neck sweaters oversized mood/
camisolas com decote em V quanto mais largas melhor.
SEE MORE TRENDS
HERE